12/06/2020
Posted by:

webmaster

Category:

Blog Post, Resales Renovation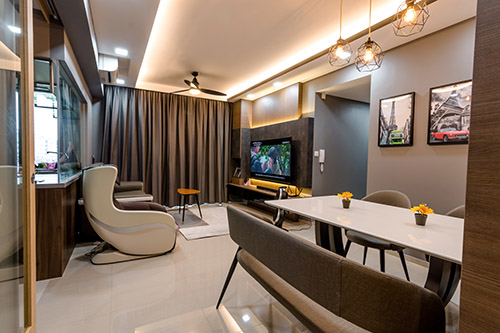 Renovating homes will take considerable amount of investment but keeping in mind of the return or resale value, it is worth spending. Suppose you have a 5 room house which you want to resale, then it is apparent that you would like the home to bring profitable return of investment. But you have to do some homework on how to enhance the value of your old home, so it fetches the resale price you have nurtured in your mind.
Some people may be apprehensive of spending money on the resale home because of the extra amount they have to invest in the process, but when you think of the increased resale price it will appear and will be relatively smaller. Here are some 5 room resales renovation plans that you can introduce and get the reward that you richly deserve.
Introduce value added articles to living room
If it is a rambling 5 room house it is very likely that you will have a drawing room which is large in size and fitting to the stature of the 5-room plan. Some of the things you could do will include the following:
If you do not have a couch then you could invest on one. This will make living room look roomier and the couch will add depth. It will also make a colorful addition besides its functionality
An existing sofa should be subjected to new upholstering and changing pillows or pillow covers. This will renew sofa to its original stature
A living room needs overhead

lighting for living room

which is innovative and a mixture of bright and dim. You can add lamps that are either hanging over head or wall fixtures, in both instances the renovation will produce regal look to the living room. Overhead Y lighting will increase aesthetic appeal while it punctuates the space.
You can add a rug or two on subfloors, like the one that is in front of the fire place or the one under the center table. Rugs have this ability to divide space in a useful way and produce more room than the actual
You can make a statement by adding a coffee table and it will become the focal point when placed near the large sofas.
If you introduce one or all of the above mentioned you will have a living room which is tempting enough to register greater value to the 5 room resales renovation.
First sights always make a great impression and a probable buyer will certainly be impressed by the renewed living room and may agree to a price which is agreeable to you.
Introduce energy saving appliances in kitchen
Another change, an important one, is the kitchen renovation. Old kitchen which guzzles energy in abundant quantity may make a negative impression on the buyer. By introducing a few new applications and upgrading the existing cooking range and adding new racks or cabinets could immensely increase the resale value.
Increasing storage by building overhead cabinets and utilizing empty space under the kitchen counter will increase the storage and add value to the home utility and price. Introducing green lighting and appliances will save energy while transforming the old one in to a sophisticated contemporary kitchen. You can reshape the kitchen into a modular one as most buyers would expect to own a kitchen like that.