21/12/2021
Posted by:

webmaster

Category:

Uncategorised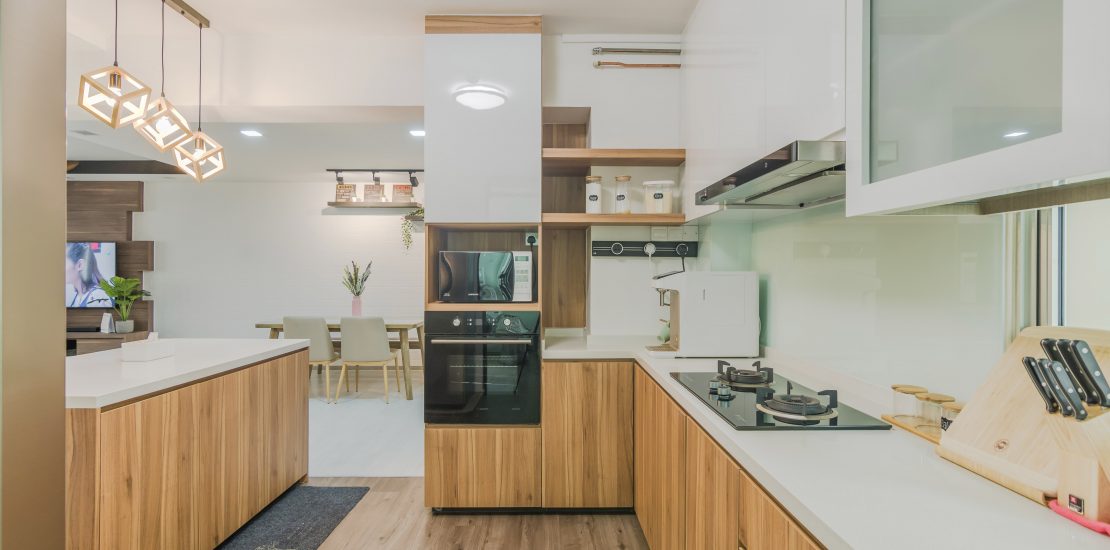 You want to update your kitchen? but have no idea what your ideal kitchen design should look like? this is definitely for you! we've gathered kitchen design ideas to help you get inspired!
To achieve a perfect balance of efficiency, utility, and beauty when designing your new kitchen, careful planning is essential. You need to take into account the various needs of each family member, as well as your own specific lifestyle requirements.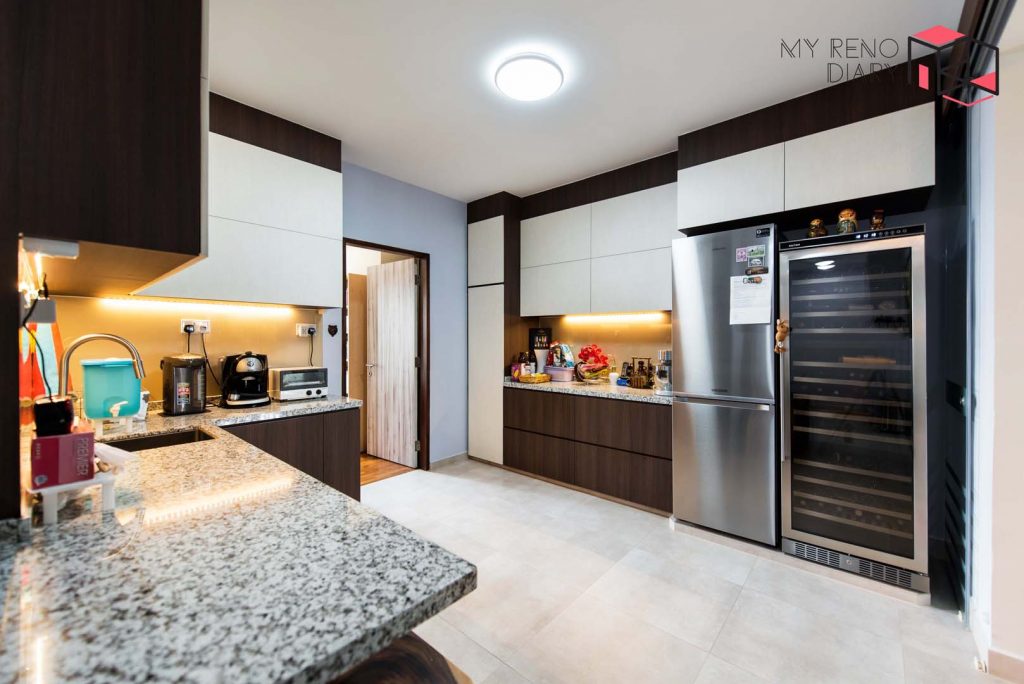 Start by making a list of what you want your kitchen to include. Do you need lots of counter space for food preparation? A big kitchen table for family meals? A breakfast bar for casual dining? With a little bit of thought, you can create the perfect layout for your needs.
Here are 10 common kitchen design ideas for your Singapore kitchen remodel, as recommended by our Design Experts.
Singapore Retro Kitchen
Reminiscing about the good old days in Singapore?
This one-of-a-kind kitchen design has a homey feel to it that most Singaporeans are familiar with. It usually offers a 'Peranakan' flair to your regular HDB flat!To make you feel like you're at an old school, we used original old school wall tiles, shiny cement flooring, and retro furniture. If you're feeling really adventurous, you can even add a genuine Singaporean 'kopitiam' (coffee shop) stool!
The great thing about this type of kitchen is that it's very versatile – it can be used for both residential and commercial purposes. So if you're thinking of setting up your own cafe or restaurant, this is the kitchen for you.
Beach Home
Are you looking for a piece of the seaside to bring into your home? Coastal home décor can make your home feel light, airy, and welcoming.
Use romantic shades of colors inspired by the sand, the sky, and varied tones of water for the marine kitchen motif. A classic appliance will also go well with your beach-themed kitchen. With the seaside appliances, you will soon find yourself craving a seafood dish.
A beach décor has a calming effect and can make your home feel more peaceful and serene. To give it a striking appearance, try adding coastal elements such as wicker or rattan furniture to your patio or garden. Also place some sea shells around your house to give it an oceanic feel.

Pastel Kitchen
Experimental, colorful, and fun. It allows you to express yourself to the fullest extent possible.
This pastel kitchen adds a soft wash of color to your area with flashes of color and lovely tones. Pastel hues complement each other when paired, as lovely as they appear.
Choose brighter hues for a fresher look, and turn a candy-colored kitchen design into a cheerful and inviting space!
Eclectic Kitchen
The eclectic style is ideal for those who enjoy filling a place with one-of-a-kind artifacts or accessories that they want to show off. This does not, however, negate the need for preparation.
If you go beyond, you can end up with a disaster. Combine your favorite strong color with neutrals. This kitchen design could become your favorite room in the house. SmartTip: To keep your colorful kitchen neat and tidy, use containers. In the bathroom, use your imagination to add a little humor.

Light Scandinavian
Scandinavian kitchens have a simple style that is boosted with neutrals, bright whites, natural components, subway tiles, and wood accents. For Singaporeans, this is the most favored kitchen design. It is inviting, calming, and perfect for families.
This kitchen features a beautiful mix of gray and white cabinetry. The light wood floors and white walls keep the space feeling airy, while the dark countertops provide a touch of contrast. The large pendant light above the island is perfect for adding some personality
Functionality, clean lines, and a general "less is more" attitude are all design principles. In your Scandinavian-style kitchen, create a bright and soothing ambience. It is critical to choose a light color that emphasizes the element of simplicity. Cooking will be a breeze!
Modern Rustic
Simple and traditional. The wood has been bleached and the walls are a little darker. This grey modern rustic design, with rustic wood accents, is a jaw-dropping kitchen room in your Singaporean dream home!
The golden handles, together with subway tiles, bring out the retro aesthetic, everything old-school. The light fixtures and pendant lamps give the kitchen a modern touch.
The best part of this design is that it is timeless! You can never go wrong with a classic look like this. With rustic wood accents, it gives your home that warm and inviting feeling, perfect for gatherings with family and friends. Plus, the neutral tones are
Sleek Natural
Clean lines, sumptuous textures, and earthy hues that honor the kitchen's interpretation of simplicity are the finest ways to design a sleek and zen kitchen. It provides you with a sense of security and tranquility.
Instead of concentrating on height, consider the width. Maintain a clean aesthetic while incorporating delicate details that highlight nature's splendor.
Natural color-finished vinyl flooring, walls, and doors, for example, with rattan pendant lights suspended from the marble island top, where you can just relax.

Classic Blue
Dark blue, white, and rustic wood are likely to be the most popular colors in 2020. Blue is a classic color that never goes out of style. It's edgy and striking.
This is a color that you will never tire of! Blue kitchens are just stunning. Blue kitchens are supposed to be classy, ageless, and attractive when coupled with neutral hues. Make a statement with your new kitchen design!
When it comes to countertops, natural stone is always in style. Blue quartz countertops are very popular right now. They have a timeless look and are durable enough for everyday use. If you're looking for a unique touch, consider a blue concrete countertop. It's sure to turn heads!
Blue is the color of the ocean and the sky, so this shade goes great in your kitchen. But make sure to balance it with lighter neutral colors like white or grey… unless you want to feel like you're underwater!
Sleek Mono Kitchen
Make it simple but impactful.
Although black may appear to be a daring choice for the kitchen, it was made to feel effortlessly traditional, uncomplicated, and modern thanks to a fascinating array of textures and materials.
The true elegance of the Sleek Mono Kitchen design is highlighted with a marble backsplash and grey accents. These unique features elevate this design and make it perfect for those who want a luxurious and timeless kitchen.
The minimalist design of the Sleek Mono Kitchen is sure to impress, with its clean lines and lack of fussiness. If you're looking for a modern and understated look in your kitchen, this may be the perfect Singapore renovation ideas design for you.
Minimalist Kitchen
It's neat and tidy. If you prefer keeping things ordered, a minimalist kitchen design is for you.
Taking in the beauty of nature and finding your zen. Featuring simple materials and honest detailing, minimalist kitchen design allows us to appreciate the serenity, warmth, and beauty of light-filled environments.
Rich textures paired with organic materials are common themes in the minimalist kitchen concept. Exposed wood beams and columns, off-white ceilings and floors, textured tiles, stone counters and wall claddings all contribute to a splendorous effect.
Perfect for those looking for a clean and open space. Minimalist kitchens often feature flatter cabinetry fronts, higher ceilings and large windows.


Want to know about Singapore Kitchen Design Ideas? you can ask mrd.com.sg then let us show you our vast experience. From kitchen cabinets, to door handles and tiles, we have the knowledge that will help your home kitchen renovation become a breeze!
Plus, you can always ask us for advice. We are more than happy to help! So what are you waiting for? call us today!