12/06/2020
Posted by:

webmaster

Category:

Blog Post, Resales Renovation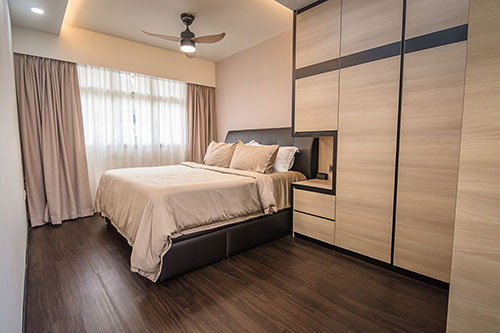 When you want to sell your 3-room house you would like to get maximum return of your investment. But this may not be possible if your construction is several decades old. Homes become dilapidated when they get on years and of constant use by the occupants. The wear and tear would be clearly visible and the house would need significant amount of resale investment so it fetches a price which is more than your expectation. Many components of a home get old and become inefficient and that may include paint, woodwork, floor, kitchen architecture and appliances, bathroom and to some extent your drainage system.  Here are some 3 room resales renovation ideas that will appeal to you and investment will not be beyond your reach.
Apply fresh coat of paint on walls
These elements need to be kept in tip top condition so buyer will not notice the blemish. A freshly painted home with gleaming walls will spread natural light and make living and other rooms look bigger than they are. So applying fresh paint over the faded walls will do the trick of your home looking new. Walls are the biggest component of a home architecture and this would mean entire home getting a new facial and subsequently looking fresh and new. You could invest on tastefully selected paint colors and make every room look different by changing the hue. This will make a big impression on the buyer and wall being huge the picture will remain stronger in the buyers mind. The money you spend on painting the walls will fetch return of investment three times thus increasing the value of your 3 room resales renovation.
Replace old floor with ceramic tiles
Resale is always a tricky deal because buyer will get to point out several blemishes in a old home and significantly reduce the money value of the home structure. However by applying a few simple renovation ideas you can significantly neutralize the factor and bring balance to the resale value. Doing the floor is another renovation option which will increase the resale value. Your old concrete, wooden, vinyl or other floors can be easily replaced with new, bright hued, glossy ceramic or porcelain tiles. This will add a new dimension to the home makeup and the house will look updated and contemporary because tiles can be obtained in the latest style. Upgrading your floor is likely to make a impact on the negotiation and you can always quote the new floor while raising the resale price. Ceramic tile is cheaper than any other quality surface tiles and by replacing your old floor with new tiles you can easily refurbish your home and make it look newer. Since ceramic tile prices are cheaper the investment will not be so great. It is great 3 room resales renovation idea that will work perfectly.
Update lighting with latest LED lights
If your home still sports the filament variety bulbs or gas version tubes, it is time that you replace them with elegant looking LED lights. It is a great investment because it is modern and is going to make lots of impression on the buyer's mind. LED lights when installed in a combination can emit considerable amount of luminescence while looking innovative. The idea is to present a façade which is updated and upgraded and the one that goes well with the mainstream. So invest on lighting and your rooms will look brighter and bigger.